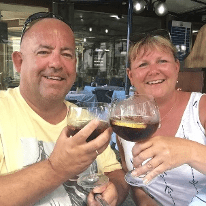 Oakley Sports & Social Club would like to extend a warm welcome to our new Stewards Stuart and Merida Liggins, who pick up the reigns following the  retirement of Mick & Barbara Hewitt.  Although not from Oakley, local members will almost certainly recognise Stuart and Merida. 
Stuart was the former chair of AFC Oakley; during his tenure he was responsible for bringing all the various local football teams together and operate as one structured organisation from which the club now greatly benefits from.  In tandem, Stuart joined the Oakley Sports & Social Club Committee in 2014 as he had a keen interest and enjoyment in seeing OSSC flourish too.
Merida was a teacher at Lincroft Secondary School.  As such, she is well versed in local community matters and has a keen interest in seeing our sports and social club flourish.
Stuart and Merida are obviously facing a sizeable challenge, having taken over during the midsts of a once-in-a-century pandemic.  However, they have a strategy to serve the local community despite OSSC presently being in tier 4 (see their takeaway menu here) and have fantastic plans for the Club when rules are relaxed.
The OSSC Committee are looking forward to working with Merida and Stuart and they have every faith that the club with continue to prosper under their Stewardship.
Latest News