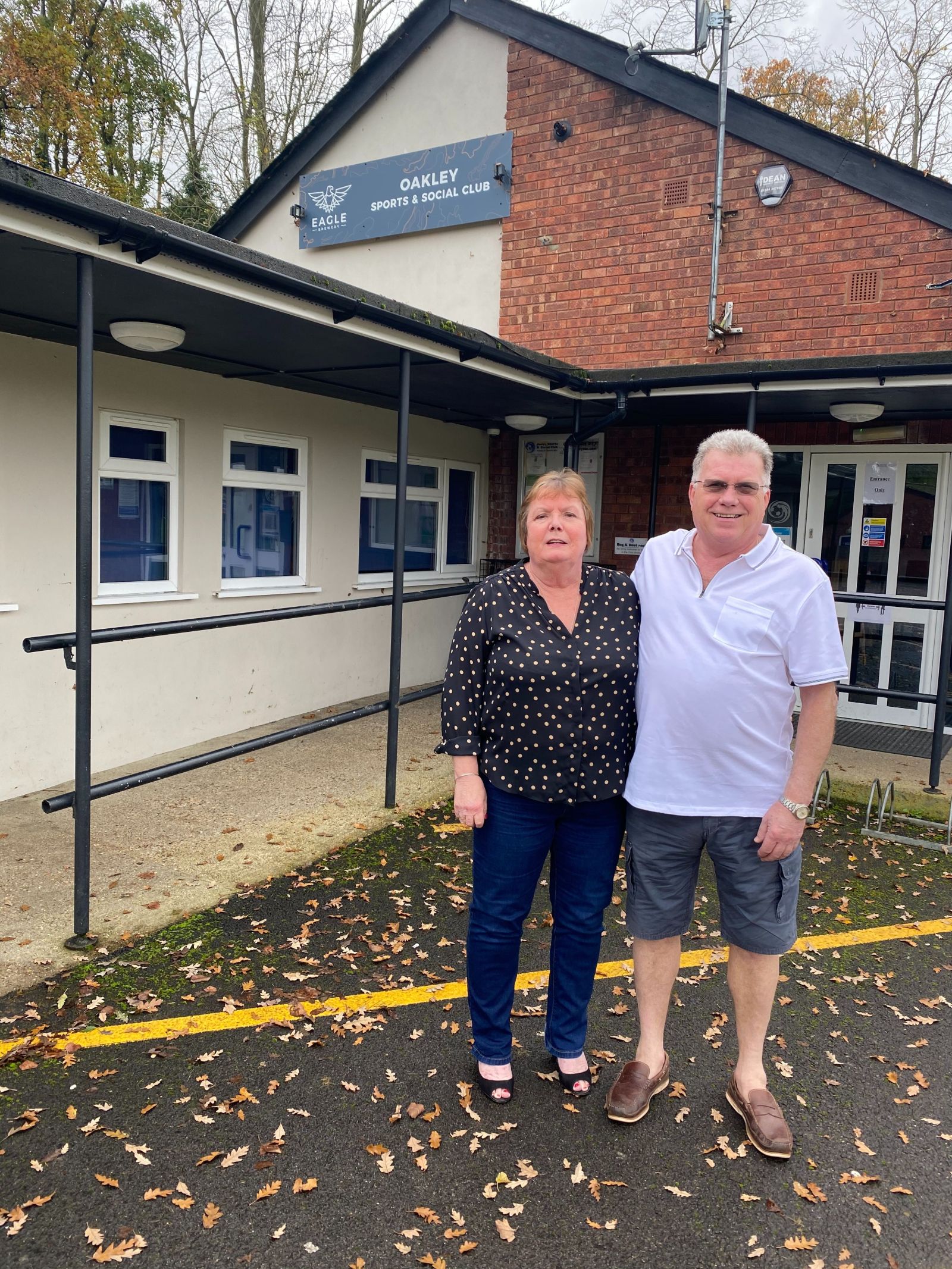 Mick and Barbara Hewitt are set to retire in January 2021 following over ten years of stewardship at Oakley Sports & Social Club. However, their contribution to OSSC predates their start as stewards and have always gone above and beyond to ensure success for the Club, to the benefit of its members, the village and further-afield too.
Moving to the village in 1978, Mick & Barbara soon entwined themselves into the community.  Mick ran a successful electrical company for many years, joining the OSSC Committee in 1996 and bringing with him his trade expertise to the fold.  Barbara joined the OSSC Committee a couple of years later, bringing a strong desire to fundraise for the Club.  From discos to raffles, Barbara was keen to raise money to help sustain the club during challenging times and raise money for a children's play area - which was subsequently procured and installed.  And so this effort was the first steps for the Club to shake off a "working men's club" stigma and become recognised as a family focussed venue in addition to its sports facilities.  This has echoed throughout the years with many local (and not so local) families enjoying the Club's facilities.  
Off-the-back of Ray Button leaving OSSC as the Steward, finding the right candidate for the vacancy was challenging for the OSSC Committee.  Perry Kenningham provided interim management to afford the then-Committee time to find a suitable replacement.  At this juncture, Mick and Barbara Hewitt then successfully applied for the OSSC Stewardship in 2010, appointed by the Committee and then-Chair Andy Brown. Since that time, the Club has flourished.
Mick & Barbara's personable characters behind the bar and kitchen has promoted both OSSC's sports and family values, bringing the Club much success over the last decade. As you'll see from the timeline, Mick and Barbara have been instrumental in many activities, projects and events during their tenure as Stewards.  
In addition to those detailed events, they have supported and promoted services offered by Oakley Sports & Social Club to; bi-annual Oakley Carnivals, very busy Thursday Oakley Motorcycle Club summer evenings, supporting AFC Oakley by opening the kitchen to suit and even helped secure a 65 year lease of the grounds with Charles Wells.
The OSSC kitchen has come into its own following Barbara and daughter-in-lay Julie's efforts. Before they took over, the kitchen was struggling to build up sustained custom. It now thrives, with many families looking forward to having a great value, enjoyable meal at OSSC. Throughout their tenure, Mick and Barbara always put the club first.
It has been clear to all that their Stewardship has been a labour of love.  Frequently working above and beyond their remit for the benefit of the Club and its members. From odd-job repairs and maintenance, to large-scale project management, Mick and Barbara's commitment to Oakley Sports & Social Club is, and always has been, paramount for them. This has never been more evident when they delayed their much-looked-forward-to retirement plans in the summer 2020 and continue in their Steward positions to ensure that OSSC could operate seamlessly and serve the community during a once-in-a-century pandemic.
The Oakley Sports & Social Club Committee would like to publicly thank Mick and Barbara for everything they've done for the club during, and before, and almost certainly after, their Stewardship.  This thanks extends to their family members who have all contributed to the club's success over the last ten years. Therefore we would like to thank to Julie, Tracy and Paul Hewitt for their work with the club also. It is from their family contributions to which OSSC owe a significant amount to its success over the last decade, they will be missed by our members and local community like and we wish them all the best in their well-earned retirement.
---
"Baysie", Roger Bays - Chair OMC
"I have known Mick and Barb since myself and my family moved into this village in April 1986 and was so pleased when they took on the Stewardship of Oakley Sports and Social Club, it was like a breath of fresh air. I had started Oakley Motorcycle Club back in January 2005 mainly for two reasons, one being a personal interest in motorcycling, the other in an attempt to try and create some revenue for OSSC which at that time was struggling with it barely being worth opening the doors on Thursday evenings. Well within a year that quickly changed and when Mick and Barb took over coupled with the huge alterations there, then it started to go from strength to strength. With Mick usually being pretty much unflappable during some very busy Thursday evenings and always maintaining his wit and sense of humour even with bikers he didn't know from Adam, coupled with Barb running the new kitchen partnered with Daughter in Law Julie and other members of their family turning out some great "pub grub" at great prices, it all proved a big hit with motorcyclists, hence one of the reasons OMC quickly moved from a membership of around 200 in 2009 to over 500 in 2019! We now see the kitchen turning out over 250 meals on some Thursday nights! 2019 was one of the busiest years in OMC history and the busiest Thursday evenings in the OSSC history, in no little part due to Mick, Barb and the team. They have always done their utmost to provide a warm friendly atmosphere on bike nights and have always gone the "extra mile" to ensure the nights would be successful. They will be sorely missed by all at OMC and will be a very tough act to follow. Ps - When I said "usually unflappable" one thing that does annoy Mick is customers who tap coins or glasses on the bar or whistle to get his attention for service, so you can imagine one particular Friday early evening when I covertly supplied a number of customers with service desk bells for them to put on the bar and "ping" to get Mick's attention when they wanted a refill, it was something you would need to have been there to fully appreciate but the sight of Mick rushing across the bar, grabbing the offending service desk bell and launching it into the bin and 10 minutes later another one appears, was a sight to behold"
Dave Boddington - Chair, AFC Oakley
"The Oakley Sports & Social Club is the literal and spiritual home of AFC Oakley and both the club and the wider community have been lucky to have Mick and Barb at the helm. As the football club has grown, particularly in recent years, to now support over 400 players across 25 teams from under 6 to adults, the support of the club, and that of Mick and Barb has been essential in enabling that and in establishing us as one of the most highly regarded clubs in the County - one for which visiting teams know that they will benefit from both the excellent facilities and a very warm welcome (at least off the pitch). From helping to prepare the pitches and changing rooms for a full Saturday of football, helping to organise midweek football sessions, and sorting the post-match food for the adult teams, the day-to-day effort  they provide is invaluable.  And in supporting our larger annual events such as our end of season, Christmas and Easter tournaments they enable us to bring as many the children and adults of our club together for the benefit of all."
Paul Moffat - Chair, Oakley Sports & Social Club
"Having worked alongside Mick & Barbara shortly after they took over as stewards of the OSSC I have been lucky to enjoy a long professional and personal relationship with them that has seen the club develop beyond expectation going from strength to strength both financially and with the facilities on offer to our membership through their hard work a dedication. It is true to say that the stewards have always gone above and beyond their duties as stewards providing support, extra hours, maintenance, a passion, dedication and a love for the club that is immeasurable. This is reflected in our sales, the condition of the club inside and out that is second none, providing superb bar services and food provision over the many years as stewards. They have embedded in the club an atmosphere of fun, security and a fantastic place to socialise for all members, adults, children and families alike. The Committee and I would like to add our gratitude to Mick and Barbara for their service to the OSSC and surrounding community, as one chapter closes and another one opens for them we thank them for all their dedication & hard work in supporting the OSSC. We wish them health, happiness and well-earned rest in retirement, we look ahead to serving them socially and looking after them from the other side of bar in a manner they thoroughly deserve."

Latest News